RECENT NEWS

Our Face-to-Face Time with Leonardo da Vinci
The record-shattering sale of Leonardo da Vinci's Salvator Mundi at Christie's recent Post-War and Contemporary Art Evening sale in New York has special meaning for the IMAGING4ART team, having had exclusive access and face-to-face time with the now-famous 500-year-old masterpiece.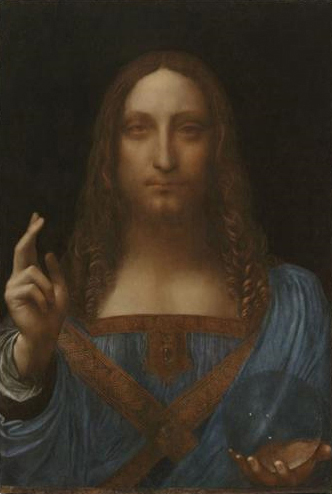 Leonardo da Vinci (1452-1519), Salvator Mundi, Oil on walnut panel
© 2011 Salvator Mundi LLC, Photograph: Tim Nighswander/IMAGING4ART
In 2010, an unprecedented opportunity came our way when art historian Robert Simon engaged our lead photographer, Tim Nighswander, to photograph what we were told was "a small painting on a wood panel." Only a small circle of people knew of the then recently-disovered painting and Simon was careful not to disclose any information about the work until we arrived at the first photography shoot.  It was then we learned from Nica Gutman-Rieppi, who assisted in the technical analysis of the painting ,that we would be photographing a masterwork by Leonardo da Vinci entitled Salvator Mundi. Last week the painting that had been rediscovered in 2005 by Simon and his partners achieved a price of $450.3 million at Christie's, making it the most expensive work of art ever sold at auction.
Over the course of several confidential photography shoots, Nighswander worked closely with Simon, Dianne Dwyer Modestini and color specialist Pamela Seymour Smith Sharp to assure that the images met the highest standards of detail, clarity and fidelity to the original painting. The final and official images have been used for scholarly studies, press releases and publications including the London National Gallery's exhibition catalogue, Leonardo da Vinci: Painter at The Court of Milan.  An extensive list of other publications where the images has been used can be seen here.
We extend our sincere gratitude to Robert Simon for relying on IMAGING4ART to photograph Leonardo da Vinci's Salvator Mundi – a once-in-a-lifetime experience we will always treasure.
---
"I have never worked on a photography project with anyone more careful, more scrupulous, and more committed to accuracy, fidelity and quality than Tim Nighswander, lead photographer at IMAGING4ART. I came to understand that achieving faithful imagery of a work of art was not a mechanical process, but one involving a union of technology and creativity at the highest level"
– Robert Simon, Art Historian
SaveSave
SaveSave
---